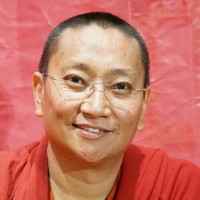 The retreat will include a daily schedule of:
Guided meditation sessions
Buddhist teachings on the text "Beacon of Certainty" – discussing the notion of spontaneous enlightenment through the practice of Dzogchen (special meditational practice)
Puja – religious chanting and instruction
Gentle Yoga and Pranayama sessions
Buddhist teacher Khenpo Lopzang Tenzin will provide daily teachings on the text "Beacon of Certainty" by Mipham Rinpoche. Khenpo La is the Retreat Master at Vajra Vidya retreat centre in Colorado where he leads the traditional Karma Kagyu 3 year retreats. Khenpo La is renowned as an exceptional scholar and communicator.
Attendees will also have the opportunity to visit the newly acquired E-Vam land where a hermitage is planned to be built. Comfortable shared room accommodation and vegetarian meals are provided. Assistance can be arranged for transport from Denver airport to the retreat facility.
Booking is essential.
Enquiries and to request an information sheet:
Email: evamcrestone@gmail.com
Cell: +1 (720) 966 8060
– See more at: http://www.tralegrinpoche.org/meditation-retreat-with-khenpo-lopzang-tenzin/#sthash.MNBh7Fbp.dpuf