Introducing The Journal of Integral Buddhism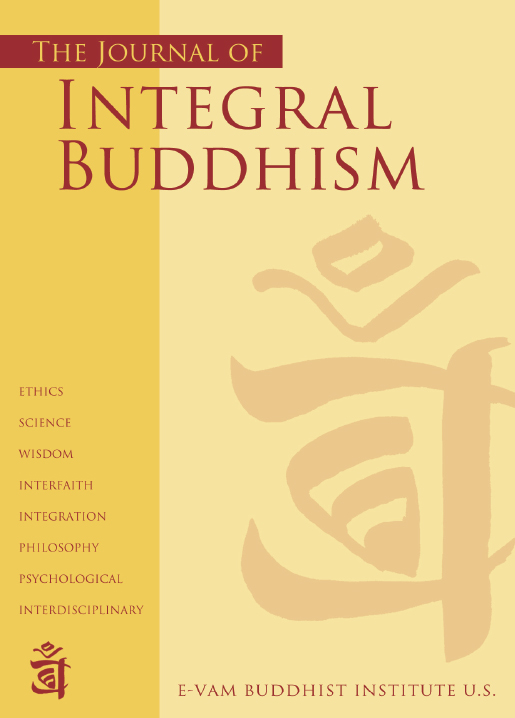 The Journal of Integral Buddhism has been developed through the inspiration of Traleg Kyabgon Rinpoche IX, a great Buddhist master in the Karma Kagyu school of Tibetan Buddhism. Rinpoche taught in the West for more than thirty years; he directed considerable energy towards an understanding of world religions and Western psychology and philosophy to ensure his teachings, dialogue and books were practical and relevant for Western audiences while also retaining the purity of his tradition.
One of the challenges faced by many Buddhists in the West is a relative dearth of opportunities for informed discussion and advancement of their knowledge, as many contemporary publications are intended for general/lay readerships, or for scholarly audiences within the academy. The Journal of Integral Buddhism aims to meet the needs of experienced practitioners by presenting erudite yet accessible papers of the highest standard, written by Buddhist masters, academics, and lay and robed practitioners.
An esteemed editorial committee will select content for each edition, ensuring it is consistently balanced and of the quality we wish to sustain.
Topics covered will include:
Neuroscience and meditation
Buddhism and the sciences
Comparisons between Buddhist and Western psychology and philosophy
Comparisons between Buddhist and Western approaches to mindfulness
Comparative religious studies
Specialised discussion on various aspects of Buddhism – such as Madhyamika philosophy, Mahamudra and Dzogchen
Analysis, contemplation and investigation in Western Buddhism.
We will announce the release of the first online Journal in the near future. Paper submission enquiries and subscription enquiries are welcome.
Once the first Journal is released online subscribers will have opportunities to ask questions of selected contributors, participate in online discussions and forums, listen to panel discussions between contributors, and view interviews with contributors.